Samsung kombinovani frizider, RB30J3600SA in Podgorica Montenegro
How to buy?: We work in the format of an online store, so you can buy goods only by making an order online on the site. If you have any questions, you can ask them through the message and support service on our website, located at the top of the page, and we will contact to you.
Delivery: It will take 1-2 days max for our courier to deliver the product to the specified address in Montenegro or in our Pick-up points in Podgorica, Budva, Bar, Tivat, Herceg Novi.
Payment: Cash, upon the store dispatch delivery to the specified delivery address, payment cards online on website or in our office in Podgorica or bank transfer on invoice
Guarantee: We sell new products only, originally packed, with the sales receipt and a warranty slip. The warranty is valid from the manufacturers or their official distributors in Montenegro
Categories: Refrigerators, SALE
Bolja organizacija. Veće uživanje.
Iskusite potpuno novi nivo organizacije i praktičnosti sa frižiderom koji omogućava maksimalnu iskorišćenost prostora
Ravnomerno hladi svaki ugao
Sistem sveobuhvatnog hlađenja ravnomerno hladi kompletnu unutrašnjost frižidera. Hladan vazduh se izduvava kroz više otvora na nivou svake police čime se održava konstantna temperatura i hrana ostaje svežija.
Idealno održavanje mesa i ribe
Fresh Zone predstavlja inteligentno dizajniranu fioku koja omogućava idealno okruženje za održavanje mesa i ribe – čuva ih na optimalnoj temperaturi tako da ostaju sveži i imaju najbolji mogući ukus.
Jednostavno pronalaženje i uzimanje namirnica
Easy Slide polica koja se jednostavno uvlači i izvlači vam pomaže da efikasno čuvate i organizujete namirnice, kao i da im brzo i jednostavno pristupate i kada su smeštene pozadi ili u bilo kom uglu.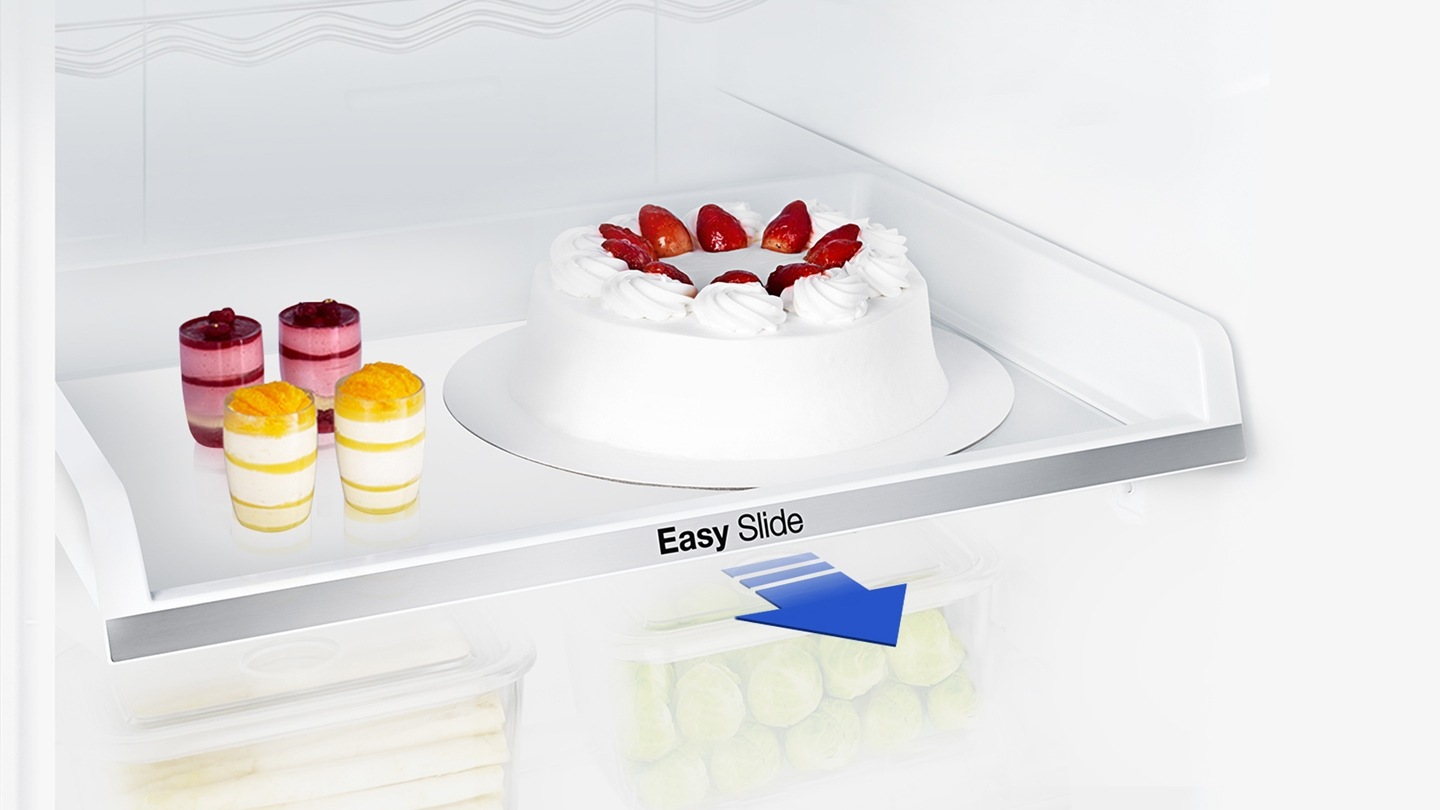 Ima prostor za veće namirnice
Jednostavna posuda sa velikim vratima omogućava bezbedno skladištenje većih namirnica iza vrata. U njoj ima prostora za mleko i sokove u velikoj kartonskoj ambalaži i dva reda limenki i flaša. Ona oslobađa prostor na policama i sjajna je za žurke!
Potpuno otvorena kutija (zamrzivač)
Veći otvor omogućava lakšu organizaciju i vađenje namirnica i istovremeno optimizuje prostor za skladištenje.
LED osvetljenje
LED svetla izvanredno osvetljavaju unutrašnjost frižidera ne smanjujući njegovu rashladnu moć.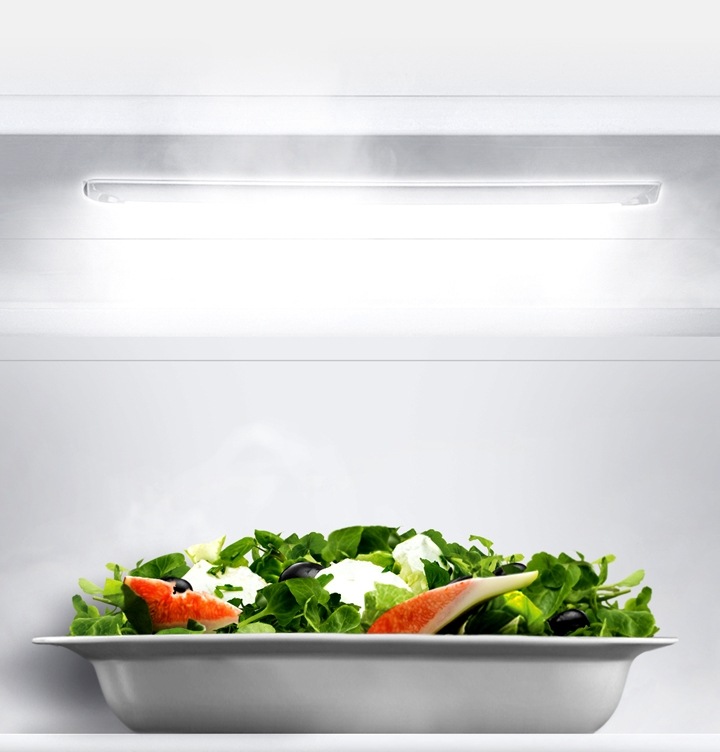 Pametno radi i ne haba se
Kompresor sa digitalnim invertorom automatski kontroliše svoju brzinu na 7 nivoa zavisno od temperature potrebne za hlađenje. Zbog toga on troši manje energije, svodi buku na minimum i manje se haba radi obezbeđenja dugotrajnih performansi.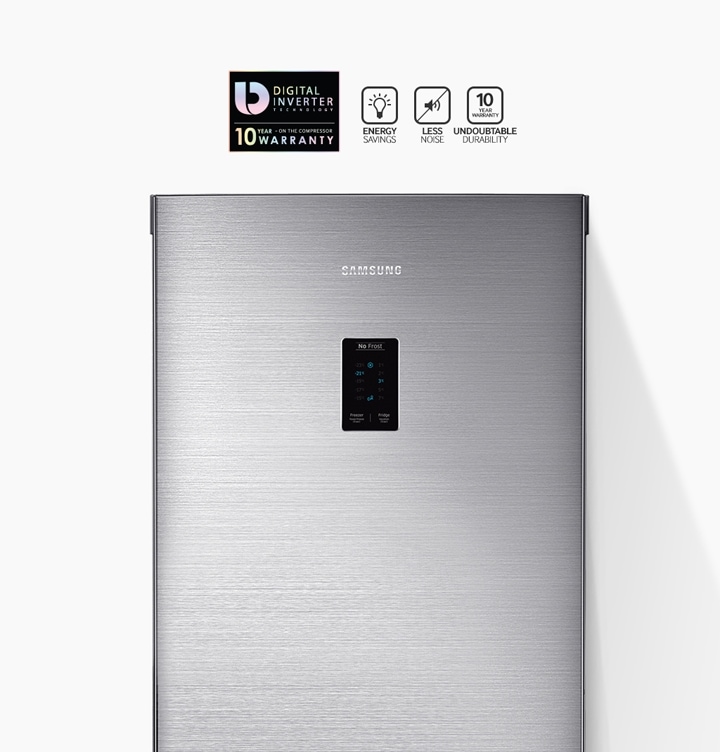 Nema više gomilanja leda
Tehnologija No Frost sprečava gomilanje leda i održava konstantnu temperaturu u svakom uglu. Ona takođe hladi skoro dvaput brže, pa manje opterećuje sistem hlađenja i produžava njegovo trajanje.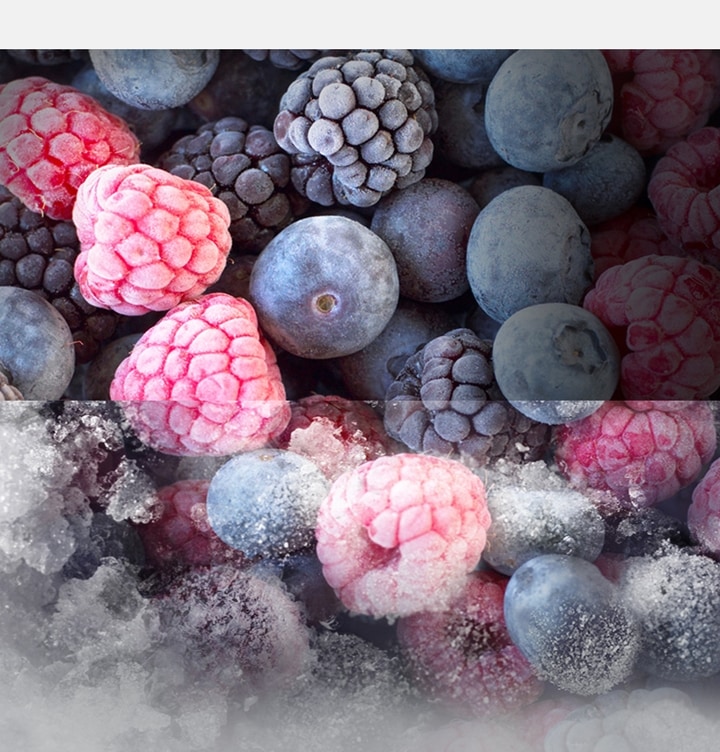 | | |
| --- | --- |
| Brand | Samsung |
| Tipovi frižideri | frižideri sa zamrzivačem |
| Kapacitet (L) | 301-400 |
| Dimenzije (V x Š x D) | 1780x595x668 |
| Visina (cm) | 171-200 |
| Dodatne funkcije | No frost, Multiflow (All-around Cooling), Water dispenser, Fresh zone, LED Display |
| Ukupna zapremina(L) | 303 (205+98) |
| Komora za zamrzavanje(L) | 98 |
| Karakteristike | Višestruki protok vazduha Da Tip hlađenja Sveobuhvatno hlađenje Karakteristike frižidera CoolSelect Zone™ Ne Pregrada za rashlađivanje Ne Broj polica (ukupno) 4 EA Pregrada za mlečne proizvode Da Rešetka za vino Ne Broj pregrada u vratima 4 EA Pregrada za jaja (Posuda za jaja) Da Unutrašnje LED svetlo Gornje LED osvetljenje Materijal za police Kaljeno staklo Broj fioka za povrće i voće 1 EA Power Cool funkcija Ne Karakteristike zamrzivača Broj fioka 3 EA Power Freeze funkcija Da Ledomat Posuda za led Unutrašnje LED svetlo Ne Opšte karakteristike Reverzibilna vrata Da Alarm na vratima Da Sredstvo za hlađenje R-600a Autonomno vreme rada (povećanje temperature) 20 h Kompresor Kompresor sa digitalnim inverterom Karakteristike spoljašnosti Dozator za vodu Da Displej i komande (frižider i zamrzivač) Interni Ručka na vratima Uvučeno Kapacitet zamrzavanja 13 kg/24hr |
| Tehničke informacije | težina 66.5 kg |
| Energetski razred | A+ |
| Boja | Siva |
| Garancija | 24 mjeseca |