Samsung NV5000M Ugradna rerna sa dvostrukom zonom pečenja 66ℓ, NV66M3531BS/OL
Delivery: It will take 1-2 days max for our courier to deliver the product to the specified address in Montenegro or in our Pick-up points.
Payment: Cash, upon the store dispatch delivery to the specified delivery address, payment cards online on website or in our office in Podgorica or bank transfer on invoice
Guarantee: We sell new products only, originally packed, with the sales receipt and a warranty slip. The warranty is valid from the manufacturers or their official distributors in Montenegro
Categories: Built-in ovens, SALE
Dve rerne u jednoj
Dvostruka rerna
Tehnologija Dual Cook donosi vam potpunu fleksibilnost sa gornjom i donjom zonom pečenja koje se mogu koristiti nezavisno, sa različitim temperaturama i vremenskim podešavanjima, ili se čitava rerna može koristiti kao celina za pripremanje veće količine hrane.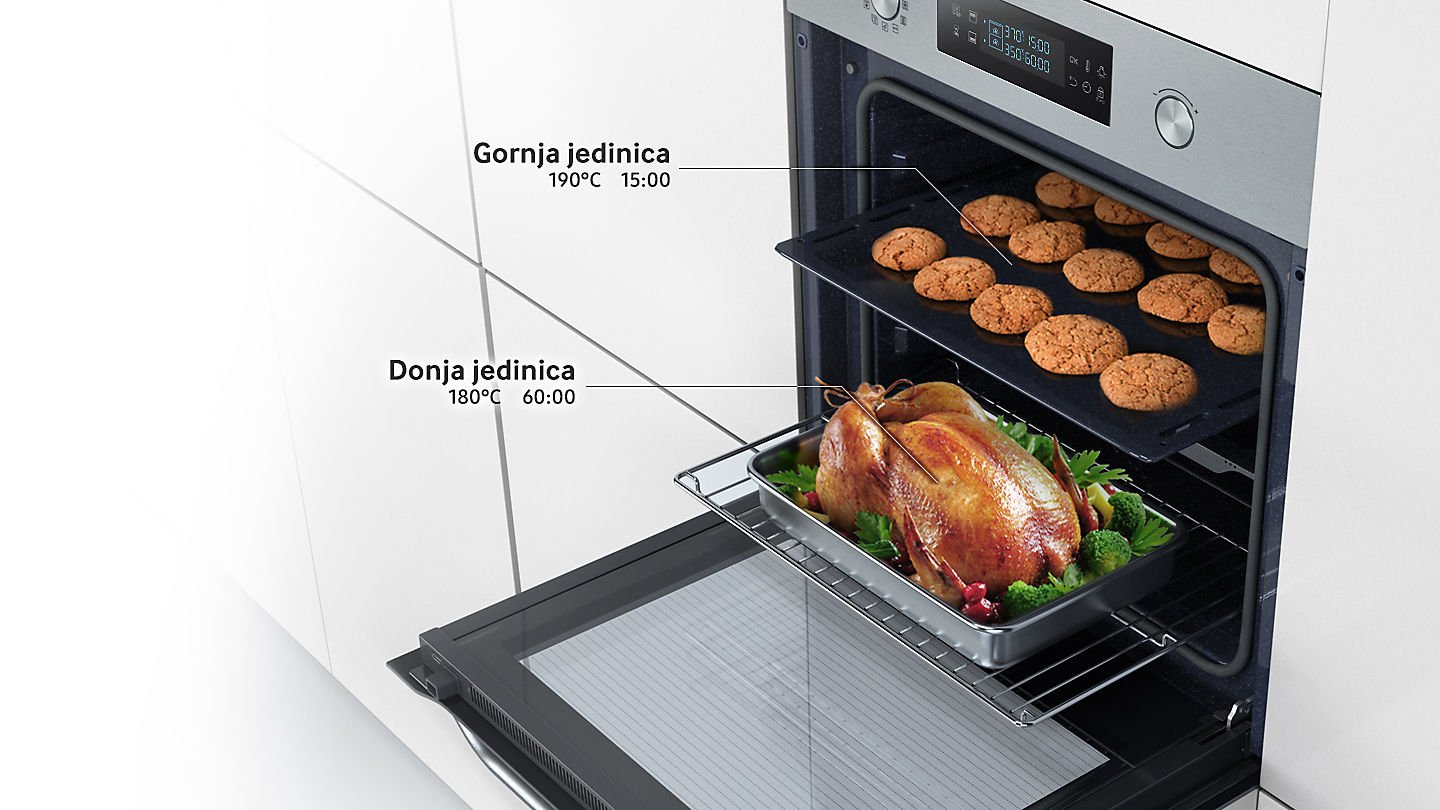 Jednostavni katalitički sistem za čišćenje
Katalitičko čišćenje
Katalitički sistem za čišćenje čini čišćenje rerne jednostavnim. Katalitička obloga na zadnjoj strani rerne upija masnoću koja prska i curi tokom pripreme hrane i oksidiše sve tragove na visokim temperaturama.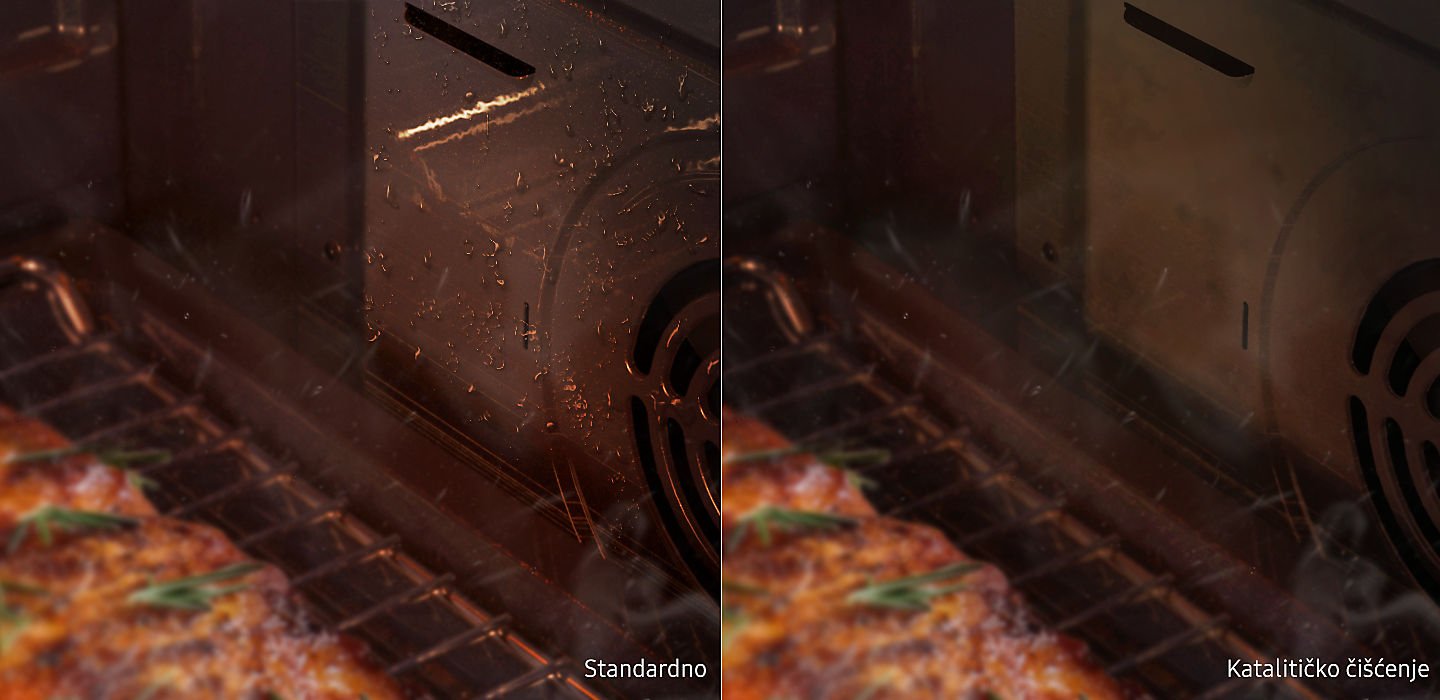 Peče više i veće
Kapacitet od 66 litara
Masivna rerna sa kapacitetom od 66 litara omogućava vam da pripremite veće količine hrane. Možete lako da stavite velike stvari, kao što je velika ćurka, a ima i dve žičane police za pripremu različitih jela.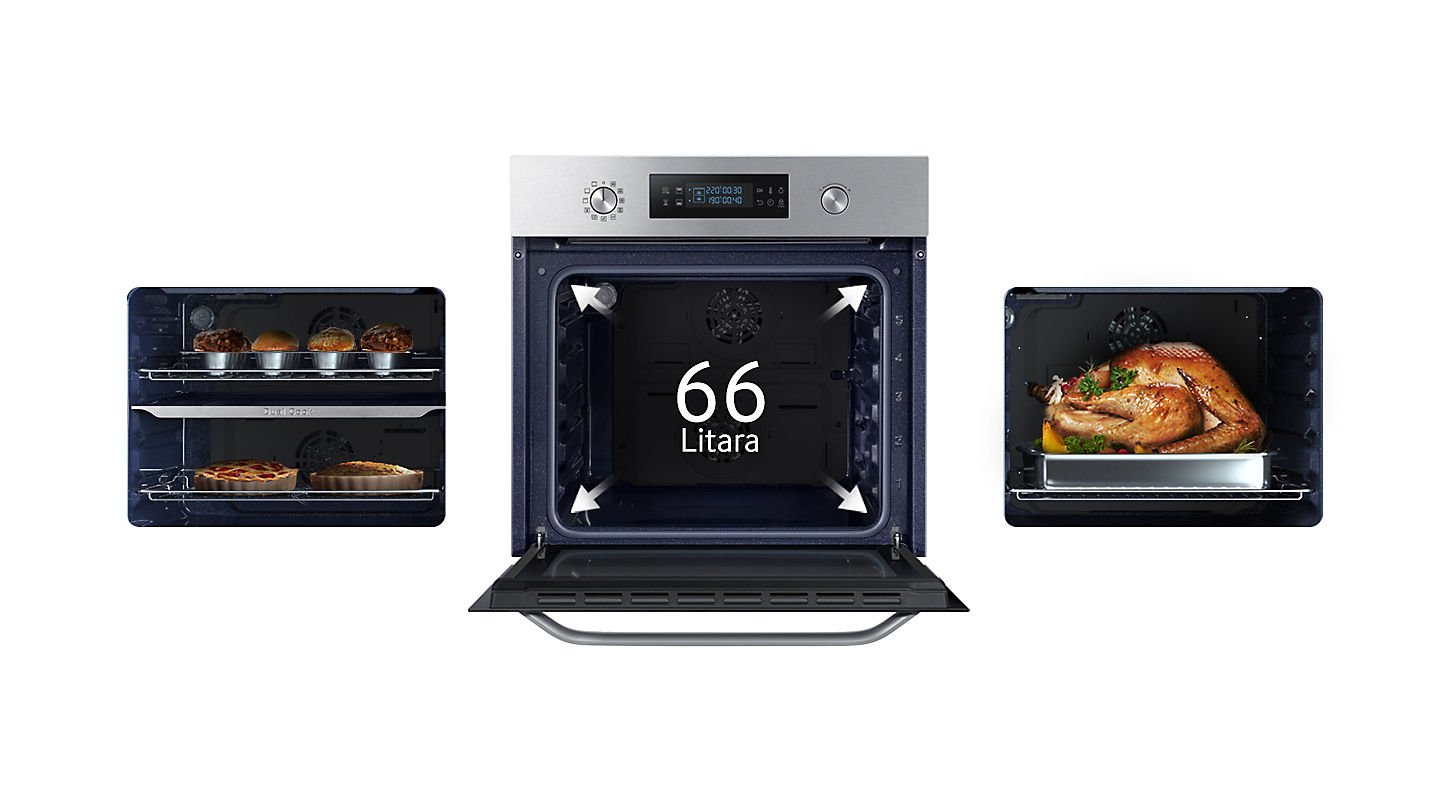 Upečatljiva energetska efikasnost
Energy A
Osmišljena da obezbedi izuzetnu energetsku efikasnost A razreda iako ima veoma velik prostor u unutrašnjosti rerne. Energetski efikasno domaćinstvo vam pomaže da smanjite račun za električnu energiju i uštedite novac.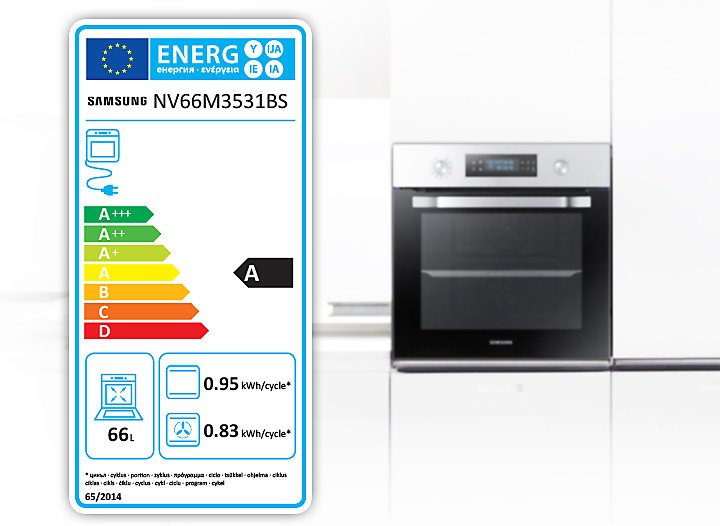 | | |
| --- | --- |
| Brand | Samsung |
| Tipovi ugradne rerne | ugradne rerne |
| Zapremina (I) | 66 |
| Karakteristike | Gornji Gril (Unutra/Spolja) 1600 / 1100 W Donji Gril 1100 W Pojedinačni režim (Gornji grejač + Konvekcija) Da Pojedinačni režim (Veliki Gril) Da Pojedinačni režim (Eco Gril) Da Pojedinačni režim (Donji + Konvekcija) Da Konvekcija 1200 / 1200 W Metod čišćenja Katalitičko Čišćenje parom Da Povezivanje sa Wi-Fi mrežom Ne Automatski programi 25ea Zaključavanje za decu Da Sat Da Tajmer za kuvanje Da Tajmer za završetak Da Opcija za promenu jezika Ne Unutrašnje svetlo 25W(BULB) Unutrašnje svetlo (Pozicija) Zadnja Lampa uključena/isključena Da |
| Čišćenje | Metod čišćenja Katalitičko Čišćenje parom Da |
| Komfor | Tip rerne Dvostruka Boja rerne Nerđajuća Način otvaranja vrata Padajuća Staklo na vratima Trostruko Meko zatvaranje vrata Ne Tip ekrana LED / Ice Blue Materijal unutrašnjosti Formirajući Način upravljanja Iskačuće dugme |
| Bezbednost | Child lock |
| Pripadajući pribor | Pleh za pečenje 1 ea Žica za pečenje 1 ea Ražanj Ne Sonda za meso Ne Kuvar Ne |
| Dimenzije (VxŠxD): | 595 x 595 x 566 mm |
| Dimenzije niše (VxŠxD): | 572 x 560 x 545 mm |
| Ostalo | 35.5 kg |
| Boja / materijal prednje ploče | Stainless steel |
| Garancija | 5 godina akcija traje do 30.06.2021 (24mjeseca+36mjeseci nakon registracije proizvoda kod ovlascenog servisa na portalu www.samsung5godinagarancija.me) |