Samsung DW5500MM Sudo mašina sa led displejom, 14 kompleta in Podgorica Montenegro
How to buy?: We work in the format of an online store, so you can buy goods only by making an order online on the site. If you have any questions, you can ask them through the message and support service on our website, located at the top of the page, and we will contact to you.
Delivery: It will take 1-2 days max for our courier to deliver the product to the specified address in Montenegro or in our Pick-up points in Podgorica, Budva, Bar, Tivat, Herceg Novi.
Payment: Cash, upon the store dispatch delivery to the specified delivery address, payment cards online on website or in our office in Podgorica or bank transfer on invoice
Guarantee: We sell new products only, originally packed, with the sales receipt and a warranty slip. The warranty is valid from the manufacturers or their official distributors in Montenegro
Categories: Built-in dishwashers, SALE
Wide Led display
Flexible 3rd rack
Lako prilagođavanje po visini
Poluprogram
Jednostavno i intuitivno praćenje statusa
Široki LED ekran
Koristi jednostavniji i intuitivniji način za pranje sudova uz lako čitljiv, velik i širok LED ekran. Možeš brzim pogledom da proveriš status, podešavanja, preostalo vreme i napredak ciklusa, čak i iz daljine. Možeš bez napora da pratiš i kontrolišeš učinak pranja.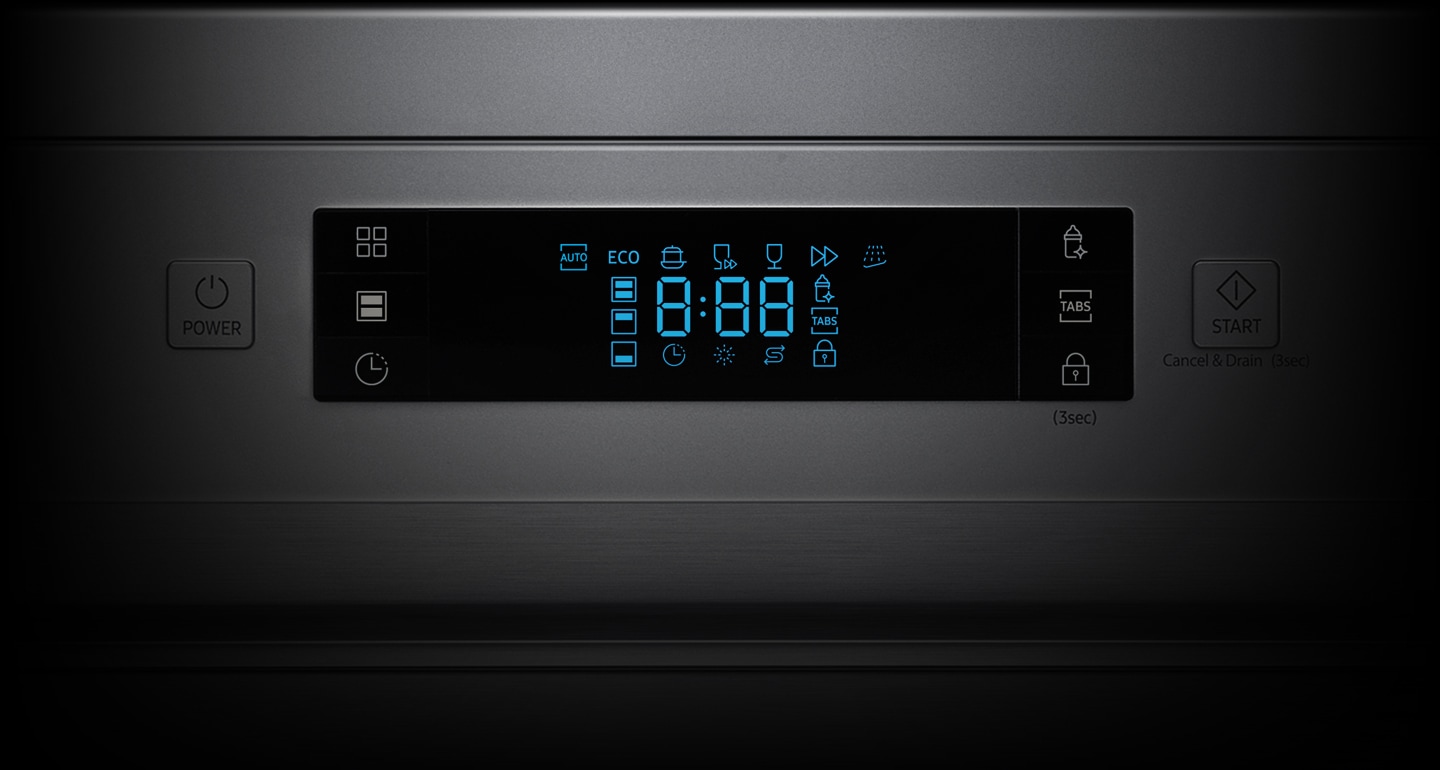 Lako stavljaj i bezbedno peri escajg
Fleksibilna treća rešetka
Fleksibilna treća rešetka predstavlja namenski prostor na vrhu za male i lagane predmete, kao što su komadi escajga i alatke. Tu ostaju bezbedni, ali i dalje budu oprani detaljno snažnim mlazevima vode.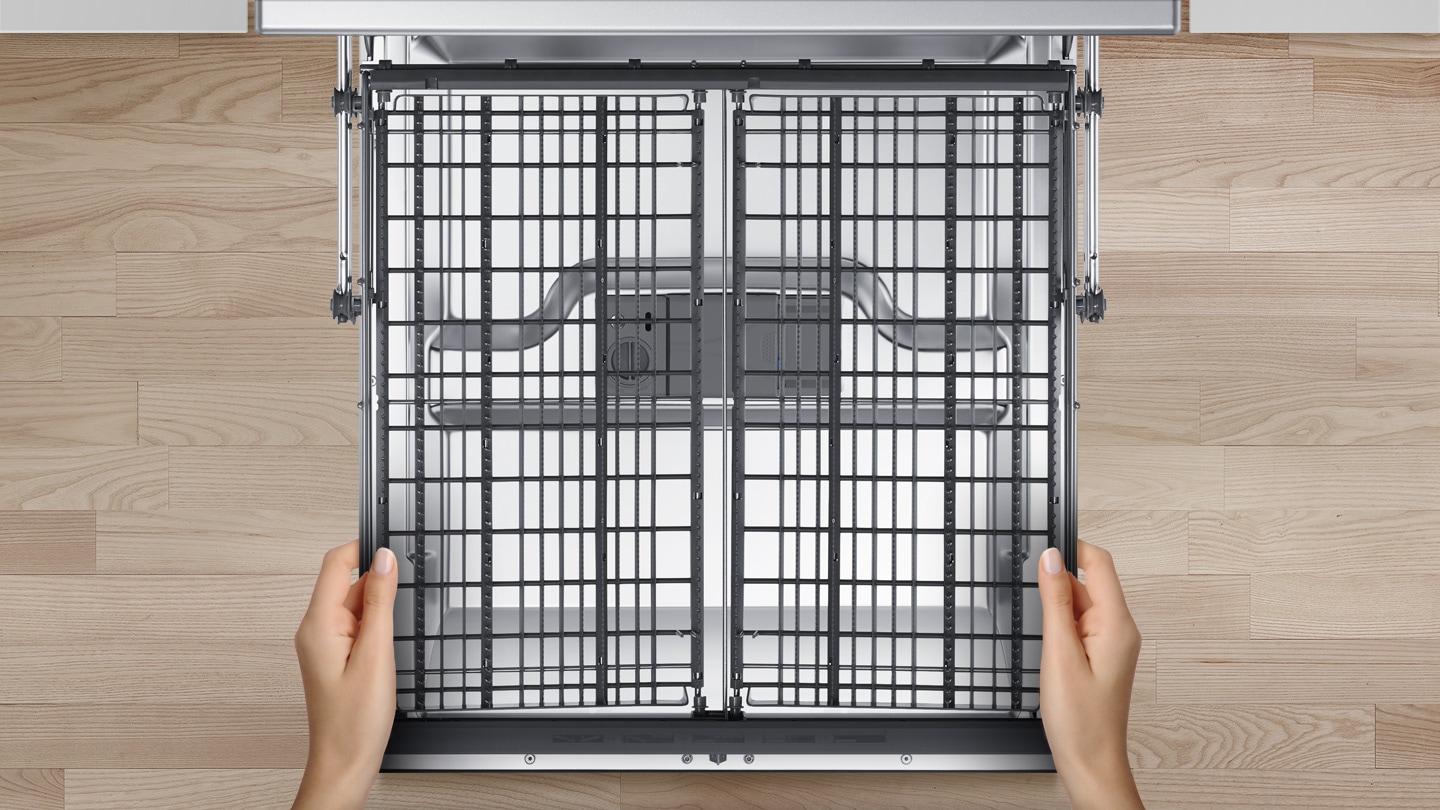 Fleksibilno postavljanje viših i širih sudova
Lako prilagođavanje po visini
Fleksibilna unutrašnjost je podesiva po visini, tako da gornja rešetka može brzo da se podigne ili spusti za dodatnih 5 cm jednim dodirom poluge. Stvaranjem dodatnog prostora u donjoj rešetki možeš da postaviš sudove raznih veličina i oblika, uključujući i duboke lonce, široke tacne i velike ploče.
Ušteda vremena i energije u slučaju male količine
Poluprogram
Za nama su dani čekanja da se sudomašina napuni. Podešavanje na manju količinu suđa omogućava mnogo veću fleksibilnost, jer ti omogućava da stavljaš i pereš stvari samo u donjoj rešetki. Na taj način možeš da uštediš vreme i energiju pranjem manjih količina i da uz to svaki put imaš čiste sudove.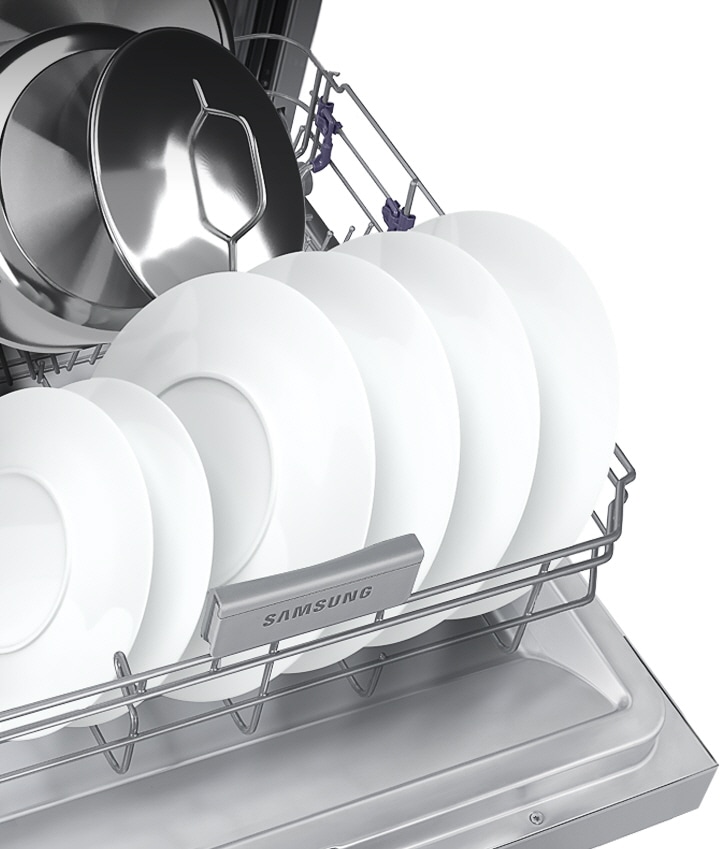 Higijensko ispiranje radi uklanjanja bakterija
Higijena
Opcija Higijena može da se aktivira u određenim programima da bi sve bilo higijenski čisto. Produžava se završno ispiranje i povećava temperatura vode na 70˚C, što omogućava detaljnije čišćenje i ubija bakterije i mikrobe. Zato će tvoje posuđe, escajg i kuhinjske alatke uvek biti bezbedne za korišćenje.
Uštedi vreme 60-minutnim ciklusom pranja i sušenja
Ekspresno pranje (60 min)
Opcija 60-minutnog Ekspres pranja mnogo brže pere i suši tvoje posuđe. Idealna je za manje količine delimično zaprljanih predmeta kojima nije potrebno stvarno intenzivno pranje, kao što su čaše, escajg i tanjiri, jer će čitav ciklus njihovog pranja i sušenja potrajati samo 60 minuta.
Brand
Samsung
Kapacitet pranja
14 kompleta
Širina (cm)
60
Način montaže
polu-ugradne mašine
Karakteristike

Način instalacije Poluugradni
Veličina 24"
Način upravljanja Dugme napred
Boja/Materijal Srebrna/STSS
Boja displeja Ledeno plava
Način pranja Obrtna
Programi / funkcije

Broj programa 7
Intenzivni Da
Auto Da
Delikatni Da
Eko Da
Express Da
Brzi Da
Pretpranje Da
Opcija
Broj opcija 5
Odloženi start Da
Poluprogram Da
Dezinfekcija Da
Multi-in 1 Da
Brzi program (30 min)
da
Program TurboSpeed (20 min)
ne
Sistem korpi

Gornja rešetka Ručica za korpu Da Foldable cup shelves Da Podesiva visina Da Rasklopivi graničnici Ne
Donja rešetka Ručica za korpu Da Rasklopivi graničnici Da
Korpa za pribor Poslužavnik za pribor Da
Sigurnost

Aqua stop Da
Zaključavanje za decu Da
Klasa energetske efikasnosti
A++
Tehničke informacije

Electrical(Volts/Hertz/Amps) 220-240V/50Hz
Grejač (W) 1760-2100w
Circulation Motor 85 W
Drenažna pumpa 30 W
Levelling screws 30 mm
NIvo buke (dBA) 44 dBA
Godišnja potrošnja 266 kWh/year
Potrošnja vode (ciklus) 10,5 ℓ
Dimenzije (VxŠxD)
815 x 598 x 570
Garancija
5 godina akcija traje do 31.12.2022 (24mjeseca+36mjeseci nakon registracije proizvoda kod ovlascenog servisa na portalu www.samsung5godinagarancija.me) Uređaj mora biti registrovan u roku od 30 dana od datuma kupovine prikazanog na računu.