Samsung NV3300A Rerna sa pravom konvekcijom in Podgorica Montenegro
How to buy?: We work in the format of an online store, so you can buy goods only by making an order online on the site. If you have any questions, you can ask them through the message and support service on our website, located at the top of the page, and we will contact to you.
Delivery: It will take 1-2 days max for our courier to deliver the product to the specified address in Montenegro or in our Pick-up points in Podgorica, Budva, Bar, Tivat, Herceg Novi.
Payment: Cash, upon the store dispatch delivery to the specified delivery address, payment cards online on website or in our office in Podgorica or bank transfer on invoice
Guarantee: We sell new products only, originally packed, with the sales receipt and a warranty slip. The warranty is valid from the manufacturers or their official distributors in Montenegro
Categories: Built-in ovens
Prava konvekcija
Pirolitičko čišćenje
Katalitičko čišćenje
Veliki kapacitet (68 L)
Uživaj u raznovrsnim ukusima hrane
Ujednačeno i fleksibilnije pečenje, a čišćenje bez problema. Toplota u rerni sa pravom konvekcijom je ujednačena, а proces pečenja je efikasniji. Sistem za samočišćenje* održava unutrašnjost rerne urednom i čistom. U masivnoj rerni od 68 litara možeš spremati mnogo više i koristiti mnogo veće posude.
* Dostupno samo na određenim modelima. Obuhvaćeno pirolitičko čišćenje kod modela NV68A1172xx i NV68A1170xx ili katalitičko čišćenje kod modela NV68A1145xx i NV68A1140xx.
Totalno ravnomerno i efikasno pečenje u rerni
Prava konvekcija
Spremaj hranu ujednačeno i efikasno uz sistem prave konvekcije, koji je odličan za pečenje. Zagrejani ventilator širi toplotu po celoj rerni i održava temperaturu konstantnom u svakom njenom delu. Tako su jela spremljena kako treba, bez obzira gde su postavljena ili koliko su velika.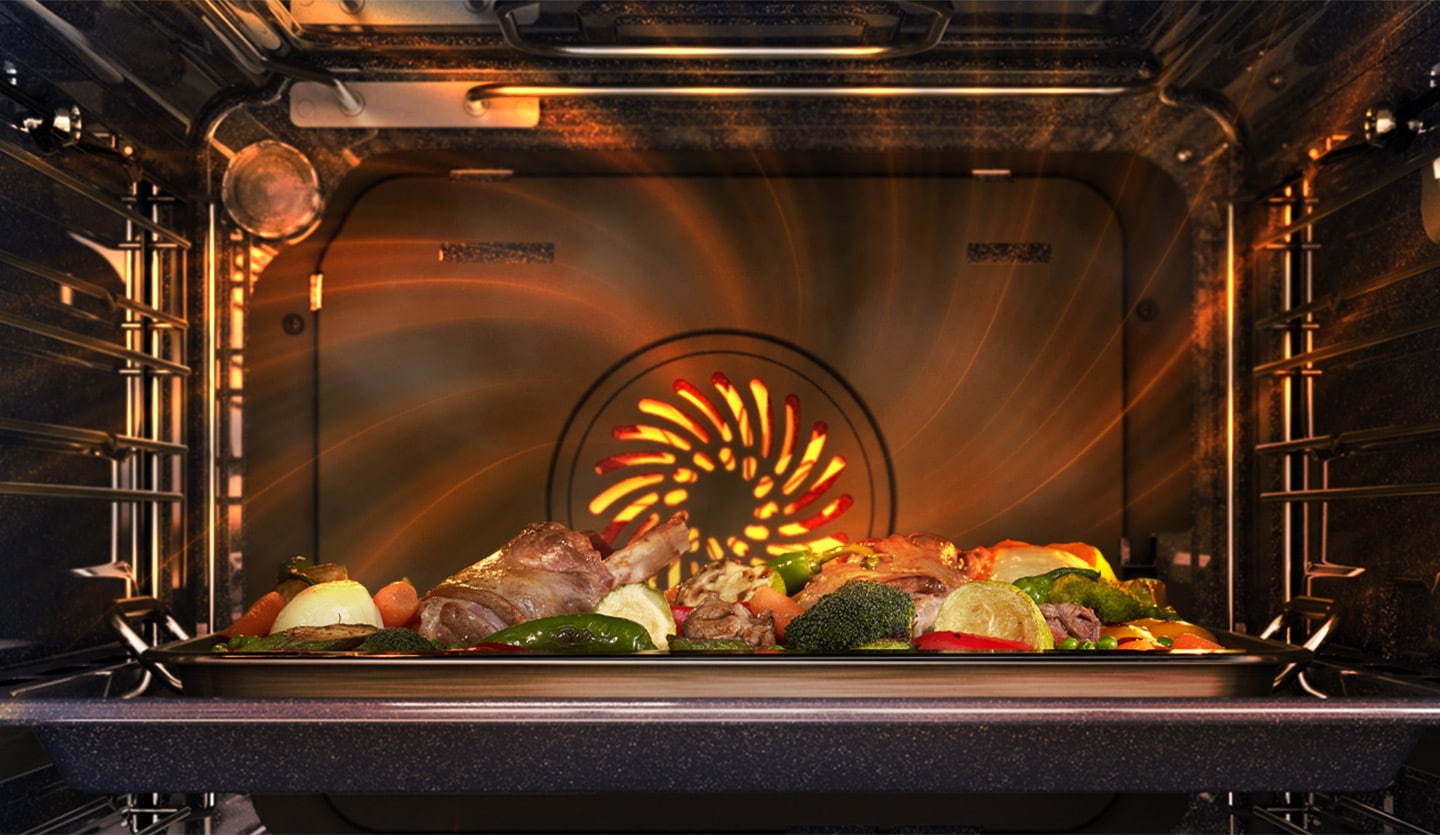 Savršeno čisto – i bez ribanja
Pirolitičko čišćenje
Unutrašnjost rerne biće uredna i čista bez gubljenja vremena i truda oko skidanja ostataka i bez bacanja novca na skupe proizvode za čišćenje. Pirolitičko čišćenje* funkcioniše po principu sagorevanja masti i ostataka hrane nakon pečenja. Svaki deo rerne je besprekorno čist, a potrebno je samo pokupiti sitne ostatke sagorevanja.
* Dostupno samo na modelima NV68A1172xx i NV68A1170xx.
Samočišćenje
Katalitičko čišćenje
Poštedi sebe truda i gubitka vremena oko ribanja rerne. Sistem katalitičkog čišćenja* olakšava održavanje rerne u čistom stanju. Katalitički uložak u unutrašnjosti rerne upija masnoću koja prsne ili se prelije iz posude tokom kuvanja. Rerna se sama očisti, bez ulaganja truda ili novca za skupe preparate.
* Dostupno samo na modelima NV68A1145xx i NV68A1140xx.
Velike posude i velike količine
Veliki kapacitet (68 L)
U ovako velikoj rerni od 68 litara možeš spremiti mnogo veće količine jela i smestiti još veće posude. Sigurno nećeš imati problema da u nju smestiš svaku posudu koja ti zatreba kada spremaš veliki porodični ručak ili zabavu. Osim što se u njoj istovremeno može peći različita hrana, u nju se mogu smestiti i najrazličitije posude, kao što su plehovi sa kolačićima i kaserole, ili one baš velike, poput pekača.
Zaštita od prenapona
Prenaponska zaštita
Ne dozvoli da ti rernu uništi nagli skok napona. Prenaponska zaštita sprečava električno oštećenje do koga može doći zbog nestabilnog napona. Ova zaštita, u slučaju da dođe do skoka napona, ili će stabilizovati struju, ili prekinuti njen dovod i tako zaštiti rernu.
Lako stavljanje i vađenje iz rerne
Teleskopska šina
Sada je mnogo lakše ubaciti posudu u rernu ili je iz nje izvaditi. Teleskopska šina* glatko i stabilno klizi napred-nazad, čak i kada koristiš teške i glomazne pekače. Zbog malog trenja stavljanje i vađenje posuda iz rerne je mnogo lakše. Hrana se lako može prelivati, okrenuti i začiniti, bez nereda.
* Dostupno samo na određenim modelima.
Uživaj u savršeno spremljenoj hrani svaki put
Proba mesa
Lako proveri unutrašnju temperaturu mesa i uveri se da je spremljeno po tvom ukusu. Proba mesa* je praktična pogodnost koja rešava sve nedoumice oko toga da li je veliki komad mesa pečen. Nema potrebe da gubiš vreme i toplotu iz rerne čestim otvaranjem.
* Dostupno samo na određenim modelima.
Brand
Samsung
Tipovi ugradne rerne
ugradne rerne
Zapremina (I)
68
Karakteristike

Tip rerne Jedan ventilator
Boja rerne Nerđajući čelik
Način otvaranja vrata Spuštanje
Staklo na vratima Trostruko
Meko zatvaranje vrata Ne
Tip ekrana LED / ledeno plavo
Materijal unutrašnjosti Keramički premaz
Način upravljanja Uvučena dugmad
Gornji Gril (Unutra/Spolja) 1600 / 700 W
Donji Gril 600 W
Pojedinačni režim (Gornji grejač + Konvekcija) Da
Pojedinačni režim (Veliki Gril) Da
Pojedinačni režim (Eco Gril) Ne
Pojedinačni režim (Donji + Konvekcija) Da
Konvekcija 1800 W
Čišćenje

Metod čišćenja Catalytic(1D)
Komfor

Sat Da
Tajmer za kuvanje Da
Unutrašnje svetlo 25 W (halogena)
Unutrašnje svetlo (Pozicija) Zadnje
Lampa uključena/isključena Da
Bezbednost

Zaključavanje za decu Da
Pripadajući pribor

Pleh za pečenje 1 komad
Rešetka za pečenje 1 komad
Telescopic Rail Ne
Tehničke informacije

Power Source 230-240 V ~ 50 Hz
Output Power 2600 W(230 V)-2800 W(240 V)
Klasa energetske efikasnosti A
Temperaturni opseg (Pojedinačni) 50~250 (gril 1/2/3 nivo)
Dimenzije niše (VxŠxD):
595 x 595 x 570
Garancija
24 mjeseca